Fiesta de la Salud 2019
On Sunday 22 September celebrates the 6th race of the Fiesta de la Salud in Granada.
You can check the information of this edition of Fiesta de la Salud at www.fiestadelasaludgranada.com.
The race, organised by the Official Medical School of Granada, starting and ending at the esplanade of Palacio de Congresos. It begins at 9:30 on 22 September and has 6200 meters length going through:
Paseo del Violón, Puente Blanco, Plaza del Humilladero, Carrera de la Virgen, Plaza del Campillo, Plaza Mariana Pineda, San Matías, Pavaneras, Plaza Isabel la Católica, Reyes Católicos, Plaza Nueva, Carcel Alta, San Juan de los Reyes, Cuesta del Chapiz, Paseo del Padre Manjón, Carrera del Darro, Plaza Nueva, Cuesta de Gomérez, Plaza Arquitecto García Paredes, Antequeruela Baja, Cuesta del Caidero, Vistillas de los Ángeles, Cuesta Escoriaza, Paseo de la Bomba, Paseo del Salón, Plaza del Humilladero, Puente Blanco, Paseo del Violón, Esplanade Palacio Congresos.
Affections to public transport
On the development of the race, there will be affected momentarily bus lines 4, 8, 9, 11, 21, 33, S2, C30, C31, C32, C34, C35 and 13.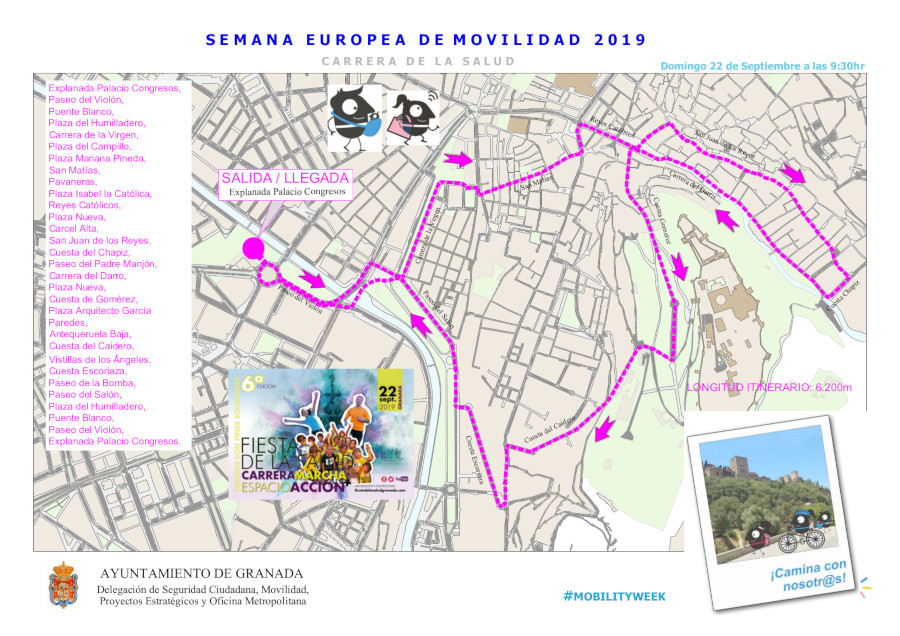 Location