Car Free Day on Sunday 19 February in Gran Vía
On Sunday 19 February 2023 celebrates the #DíaSinCoche in Gran Vía de Colón from 10:30 to 14:30 hours. #GranadaRespira
TRAFFIC CUT IN GRAN VÍA STREET
Closure of traffic from 9:30h to 15:00h where activities will take place from 10:30 to 14:30h and use of public thoroughfar for civic, educative, sporting and cultural activities in Recogidas Street between streets Reyes Católicos and Tinajilla.
As a result of this traffic cut, bus lines 4, 21, 11, 8, 33, C34, C32 and C31 will have modifications on their trips.
Traffic will be allowed in Cárcel Baja Street, Marqués de Falces and Azacayas, on the rest of the streets will not have access to closure area.

ACTIVITIES
Activities to be performed are::
- Music concerts of rising music groups of Granada:
- Sosoritnem
- Santiago Izeta
- Handcrafted market with the cooperation of associations Artesanas por Centro Artistico, Ecomercado and Aracne.
- Sporting activities:
· Skate and bicycle circuits (Balakook and Patinamos). Skating lessons for kids, that can attend with their own skates or begin in these circuits.
· Electric skates circuits (AMPEG).
· Pole dance (Charlot Aerial Art)
· Table tennis, Nordic Skiing workshop, child bicycle test and bicycle exhibition, electic skates and urban walk (Decathlon)
· American Football exhibition/workshop for kids (Lions de Maracena)
· Hockey exhibition/workshop for kids (Garnatha Club de Hockey)
· Longboard/surfskate circuit (Longboard-Granada Push Club)
· Football on street, zumba and family sports (Concejalía de Deportes)
· Yoga, Taichi... (Naturwellness)
- Games and activities:
· Playbus with Badges and Makeup workshop.
· Recycle workshops (Inagra)
· Scape City –Interactive game scaperoom (Last Escape)
· Cooking workshop (La habitación saludable)
· Engraving and printing workshops (La Moebius)
- Music and cultural activities:
· Urban dance exhibition/workshop from 11:00h to 14:00h (Bum Crew)
· Tango exhibition from 12:00h to 14:00h (Asociación Granadina de Tango-La Milonga de la Glorieta)
· Performance and circus activities (Asociación La buia)
· Typical Dance exhibition/workshop from 12:00h to 14:00h (Coros y danzas)
· Dance for everybody exhibition /workshop from 11:30 to 14:00h (Asociación los seis mosqueteros)
· Carnival comparsa performance from 12:00h to 14:00h
· Portraits Rosa Cano
· Electric viola performance (Viola Tempestad)
- Social activities:
· Stand Madre Coraje
· Stand Asociación Candelaria
· Stand Granabip e Injusalud
· Stand Calor y Café
· Stand Voluntarios por el bienestar animal
· Stand Asociación prointeligencia limite
· Stand Fundación Purísima concepción
- Delivery of free soft drinks to attendants (Coca-Cola)
- Stand Radio Granada social with interviews to attendants to this event.(Granada social &Startidea)
- Coupling of horses exhibition (Club Deportivo Enganches)
- Canine unit performance.
- Firefighters
- Minibus and Photocall (Alsa).
- Public Safety.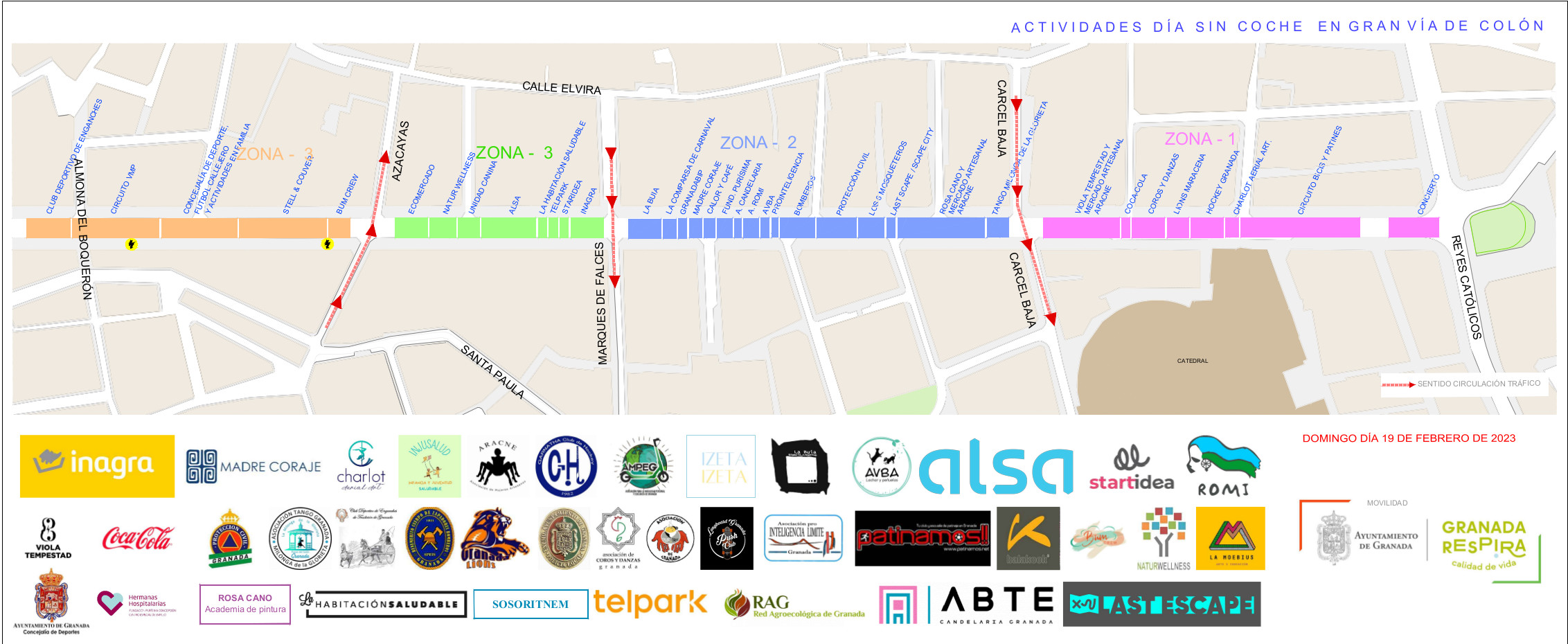 Location