The City Council of Granada will implement a Low-Emission Zone (LEZ) to reduce pollution and make Granada a healthier city.
This new space, with 450 hectares of land, will have 30 entrances and two separated areas, the fist one will be delimited by streets San Juan de Dios, Emperatriz Eugenia, Pedro Antonio de Alarcón and Ribera del Genil.
Accessibility will be guaranteed for all vehicles during 2021, this means that only residents, electric and ECO vehicles can park on surface in zone 1.
The Major remarkes that this plan was born of the special necessity of the government team for Granada to leave the ranking of most polluted cities.
The Councillor of Mobility is really convinced that this measurewill provide a better Granada, more human, habitable and healthier.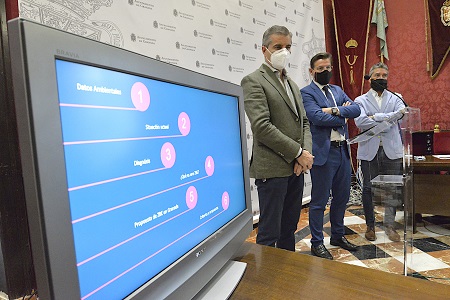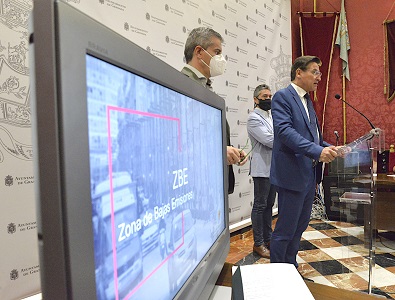 Check the full text of notice.
The City Council of Granada, within the Strategic Plan of Substainable Urban Mobility will run gradually Low-Emission Zone. This is an area where, in a land of 450 hectares, will be priorized foot displacements, personal mobility systems and the use of public transport to reduce pollution and change Granada, into a free pollution and healthier city to live in.
The Major of Granada, Luis Salvador, accompanied by the Councillor of Mobility and Public Safety, César Díaz, and the Councellor of Tourism and Trade, Manuel Olivares, has englobed this measure within the special necessity of Goverment team taking important measures, Granada leaves the ranking that places it, among Madrid and Barcelona, as one of three most polluted cities in Spain.
So, the Low-Emission Zone is englobed within the short, medium and long term measures boosted by Government team fighting for the health of population, because, as César Díaz said, we have a huge problem caused by pollution. As he detailed, in Granada 35.000 have asthma, 2.000 are people under the age of ten, being pollution a critical factor; 4.700 people had in 2019 cerebrovascular diseases and about 500 had lung cancer.
To face this situation, the City Council has take several guidelines that will be complemented with the implementation of the Low-Emission Zone that in zone 1 will allow the access of any vehicle with one particularity: parking on surface will be reserved for residents, ECO vehicles, electric, load and unloading, bicycles, motorbikes and taxis. This space will be delimited by San Juan de Dios, Emperatriz Eugenia, Pedro Antonio de Alarcón, Ribera del Genil including Albaicín and Sacromonte.
The rest of vehicles, that can get through this area, must park in underground parkings or garages. This way we try to eliminate the traffic of vehicles looking for a parking space that most of times is not possible and creating many pollution emissions.
On the other side, Zone 2 will have many rotation parking places, as César Díaz said, in almost one square kilometer to streghten traditional trade.
The Councellor has appealed to the understanding and confidence of citizens in this plan, that is so needed to keep welfare of grenadians. We are sensible to the difficulty of implementing new mobility habits but i think that we have to make an effort because the health of citizens is at stake, has said Díaz and remarked that this plan is without a doubt the key to make a step forward for a better, more habitable, and healthier Granada, and i´m sure that together we can achieve it.
Finally, César Díaz, has remembered that this plan is born within the european guideline of Maximum Emission Level, the Royal Decree of Measures to Reduce National Emissions, the National Plan to Control Pollution and the Draft Bill of Climatic Change and Energetic Transition, that are mandatory rules for municipalities of more than 50.000 inhabitants and must be implemented before 2023. With this plan we are ahead of what is about to come, we are ready to face actual and future mobility and achieve a better, more human, habitable and healthier city of Granada.
Presentation