The #CarFreeDay is full of activities this Sunday 19 February 2023 in Gran Vía de Colón with more than 50 cultural activities to enjoy with your family.
Source: Information about traffic cut and activities.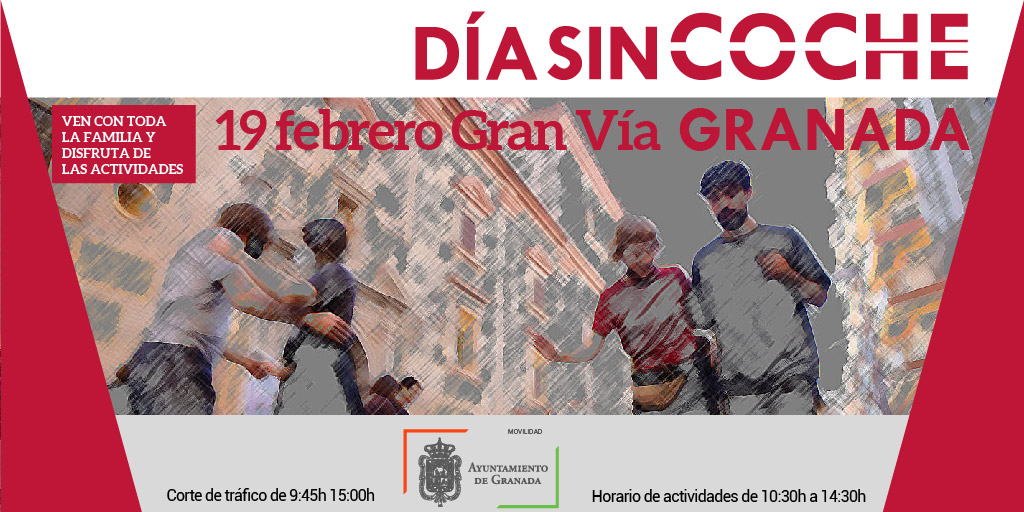 The Mayor of Granada celebrates this Sunday, February 19, a new edition of Car Free Day, that this time takes place in Gran Vía with a huge programme of leisure and festivity activities for all the family, will be performed an advance to Carnaval with the comparsas of the city, also music concerts of young groups, handcraft market, kitchen and recycle workshops, rollerskating and sport, cultural and social exhibitions.
The councellor of Mobility, Citizen´s Protection and Economy, Raquel Ruz, has pointed out, on the presentation of this new edition, taking place in the center of the city, after a celebration in Beiro district and Federico García Lorca Avenue, the consolidation of this initiative, that was resumed by this government team in 2021 due to the commemoration of European Mobility Week that fortunately each year its supported by it has more social, sport and cultural associations, and above all a large number of visitors to enjoy free car day in the most representative streets in the city, said.
This new edition of Car Free Day, due in Gran Vía from 10.30 to 14.30 hours, so will be closed to traffic, and will have almost fifty activities, among concerts, markets, workshops, exhibitions and informative stands, that supports this initiative in more than 5.000 people joining these days.
So, in this occasion, will have a large number of concerts, like grenadine emerging bandsA Sosoritnem and Santiago Izeta, will have a comparsa due to celebration of Carnival, from 10 to 14.00 hours, exhibitions and tango workshops, from 12.00 to 14.00 hours and at the same time grenadine associations Artesanas por Centro Artístico, Ecomercado and Aracne will show their products in a handcrafted market in the surroundings of Isabel la Católica Square.
Talking about sport activities, Raquel Ruz said that "we will have the attendance of Balakook and Patinamos clubs, that will do an exhibition of rollerskating and cycling, and there also will be personal mobility vehicle exhibition, by AMPEG, and exhibitions of different sports, like yoga, by Naturwellness, hockey, by Garnata Club de hockey; american football, Lions Granada, or pole dance, by Charlot Aerial Art.
Attendants can also join a kitchen workshop, by La habitación saludable; engraving and printing, by La Moebius, and also will be performed a Scape Room, called Scape city, by the company Last Scape, activities that for the first time will be added to usual Inagra courses for recycling and make up, and betch workshop in the Playbus.
Also there will be tango exhibitions, by association La Glorieta de la Milonga; traditional dance, by Coros y Danzas association; urban dance, with Bum Crew, or performing and circus arts , by association La Buia, also will have the performance of Viola Tempestad and portraits of Rosa Cano.
Different social entities, like Calor y Café, Madre Coraje, Granabip and Injosalud or Voluntarios del Bienestar Animal, have also confirmed their participation in Car Free Day, there also be coupling of horses, dog unit of Local Police of Granada or delivery of soft drinks between participants.