Alhambra and Generalife
Getting to
Monumental complex of the Alhambra and Generalife have restrictions to private traffic, although there some access to it that doesn´t get in to the city and allows to park beside the main entrance building to the complex.
In the following map you have the recommended itinerary to get to the Alhambra for visitors using their private vehicle arriving from A-44 (Motorway Bailén - Motril). Access is through Ronda Sur (A-395) through Santa Maria de la Alhambra Avenue.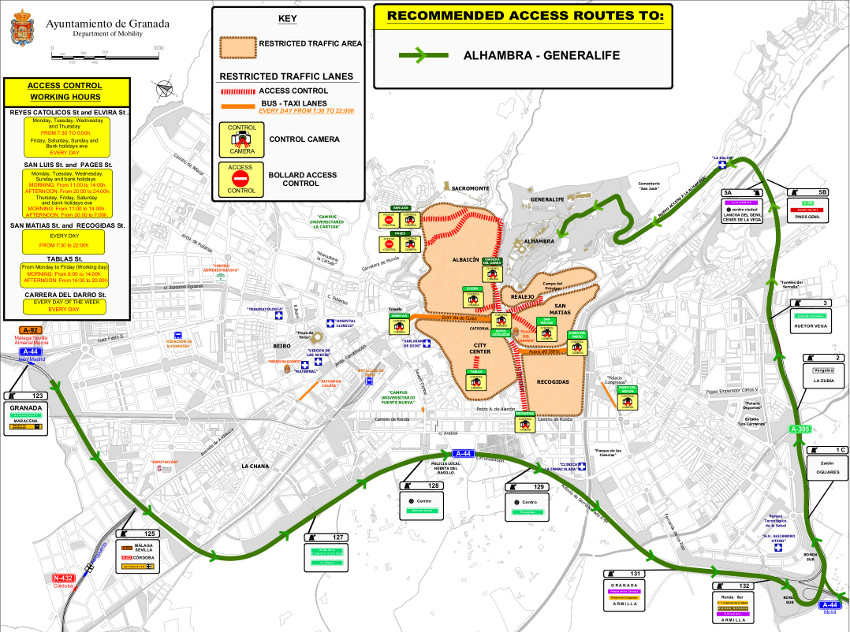 Clicking on the previous image you can download a detailed PDF with all the information, so you can print it or check it on detail.
Parking
Access to Parking del Generalife from Highway.
Alhambra and Generalife
In traffic and mobility terms, the Alhambra and its enviroment are specially protected because it is World Heritage. The access by car always will be taking the Motorway (A-44) - Ronda Sur (A-395) - Santa María de la Alhambra Avenue – Alhambra Public Parking.
You can not get to the Alhambra by car if you are in the city center. Cuesta de Gomérez is closed to traffic before the entrance to the Alhambra Forest, you can only get on foot.
Suggestions
Before you get into the city center with your car:
Check your itinerary to your destination before using the car.
Check if you have to get through some access control point or bus lanes controlled by bollards or camera. If yes, ask if you can get through it or how to get an authorization.
Update the maps of your GPS navigator.
Get informed about your parking possibilities: on surface (a very limited parking places) or a public parking.
If you need more info, you can email us to cgim@movilidadgranada.com.
Map

Watch Alhambra and Generalife in a larger map
Access by bus
The best thing to do, if you are using prívate vehicle , is to park in the Alhambra Public Parking and get to the complex on foot.
If you are in the city and does not want to use your private vehicle, you can get through Cuesta de Gomerez from Plaza Nueva on foot or using public transport. Minibuses line C30 connects the city center (Isabel la Católica square) with the Alhambra, and line C32 connects Albaicín with Alhambra. Both lines are circular, you can get on/off along all their routes.