Hospitals
Getting to
In the city of Granada there are 2 main hospital areas: PTS and Virgen de las Nieves.
In the following map you have the recommended route for access to the hospital areas by private vehicle from the A-44 (Bailén-Motril motorway). For the PTS, access is recommended from the Ronda Sur (A-395) exit Zaidín - Ogíjares. For the Virgen de las Nieves hospital complex, from the A44 can be accessed through the Maracena - Almanjáyar exit (preference for access to Traumatology), the Avenida de Andalucía exit or the Méndez Núñez exit. Depending on the specific point you want to access or the parking lot where you want to leave your vehicle, it will be more or less interesting one or the other access.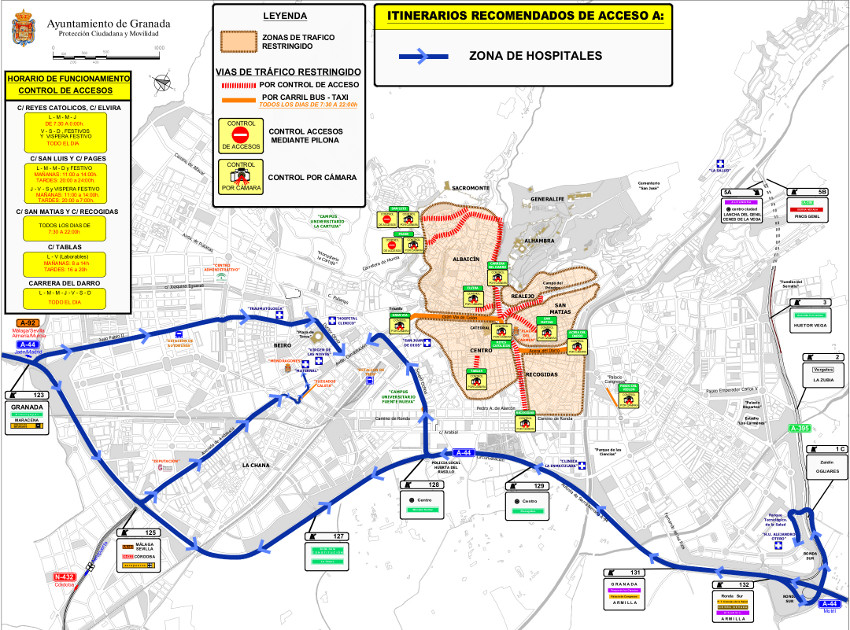 Clicking on the previous image you can download a detailed PDF with all the information, so you can print it or check it on detail.
Hospitals
In relation to traffic and mobility, the Technological Park of Health has different accesses from the A44 and the A395. From the city, it is possible to be acceded as much by avenue of Dílar as by avenue of Cadiz or street Torre de Comares.
As for the hospital area of Caleta, which includes the Mother and Child hospital, the Virgen de las Nieves, the hospital of Traumatology, depending on the specific point of interest, there will be different recommended itineraries.
Suggestions
Before you get into the city center with your car:
Check your itinerary to your destination before using the car.
Check if you have to get through some access control point or bus lanes controlled by bollards or camera. If yes, ask if you can get through it or how to get an authorization.
Update the maps of your GPS navigator.
Get informed about your parking possibilities: on surface (a very limited parking places) or a public parking.
If you need more info, you can email us to cgim@movilidadgranada.com.
Map
Parking
PTS
Access to parking PTS.
Virgen de las Nieves
Access by bus
The best suggestion, if you are going to access by private vehicle, is to park your vehicle in the nearby car parks, access the hospital site on foot.
If you are in the city and do not want to use your private vehicle, you can do it on foot (depending on your point of origin) or use public transport. Line 4 connects both hospitals, and Metro line too. Line U3 lets you access to PTS, and lines N1, N3, N4, N5, N6, 5, 11, 21, 33 to Virgen de las Nieves hospital.
Access in other public transport
In addition to the taxi stops that are close to all hospital centers, you can use the Metro de Granada for both complexes, and metropolitan lines.