Pedestrian priority in San Antón st
Decree
PHASE 2
On March 3, 2022, the Reorganization of the access itineraries in the area of San Antón and the remodeling of some of its transversals is published on the Edict Board of Granada.org.
Report-proposal
After the pedestrianization carried out in the section of Calle San Antón between C/ Alhamar and C/ Recogidas on 09/17/20, in order to reduce the flow of vehicles along it to a minimum (especially those accessing the rotating public car parks) it is proposed to reorder the access itineraries to them and to this end the remodeling of some of their transversals in accordance with the following conditional:
1º Invert the direction of traffic in C/ Horno de Espadero (section between C/ San Antón and C/ Padre Alcover), in C/ Padre Alcover (in its two sections: between C/ Frailes and C/ Horno de Espadero and between C / Nueva de San Antón and C/ Horno de Espadero) and in C/ Puente Castañeda (section between C/ San Isidro and C/ Acera del Darro).
Signal Pedestrian Calle Pino, allowing access to it from Calle Acera del Darro, only to the same vehicles that have access to San Antón from C/ Alhamar defined in point 5.
The traffic management around San Antón with this second Phase will be established as reflected in the map included in the ANNEX to this report.
2º Enable the video-detection access control of C/ Recogidas the passage for vehicles accessing the Victoria Public Car Park, with the owner of the car park having to install an informative dynamic traffic orientation signage at said point indicating the availability of free spaces and when, not having them, the vehicles cannot go through the access control.
3º Implement a video-detection access control at the entrance to C/ San Antón from C/ Alhamar where, as in C/ Recogidas, the owner of the Victoria Public Parking installs dynamic traffic guidance information signs with information of the availability of free seats.
4º The owner of the Montes Orientales Car Park is required to reverse the entrance and exit to it so that it is accessed through C/ Pino (passing through the video-detection access control of C/ Recogidas) and exits through C/ Puente Castañeda towards C/ San Isidro and C/ Acera del Darro.
PHASE 1
From 17 September 2020 San Antón Street is been pedestrianizated (from Alhamar to Recogidas).
You can see the Decree in Granada.org.
According to measures to boost foot displacements and measures to restrict motorized traffic in the city whithin the Low Emmission Area, will be marked as pedestrian one of San Antón´s area from Alhamar St. to Recogidas St. with exception of authorized vehicles conditioned to the following premises:
Installation of "pedestrian street" signals in San Antón Street between Alhamar and Recogidas streets was on Thursday 17/09/20. Previously, to ease the exit of vehicles in the section of San Antón Street next to river Genil to Camino de Ronda, on Wednesday 16/09/20 was enabled two sense of circulation in section of Alhamar Street from San Antón to Mulhacen streets.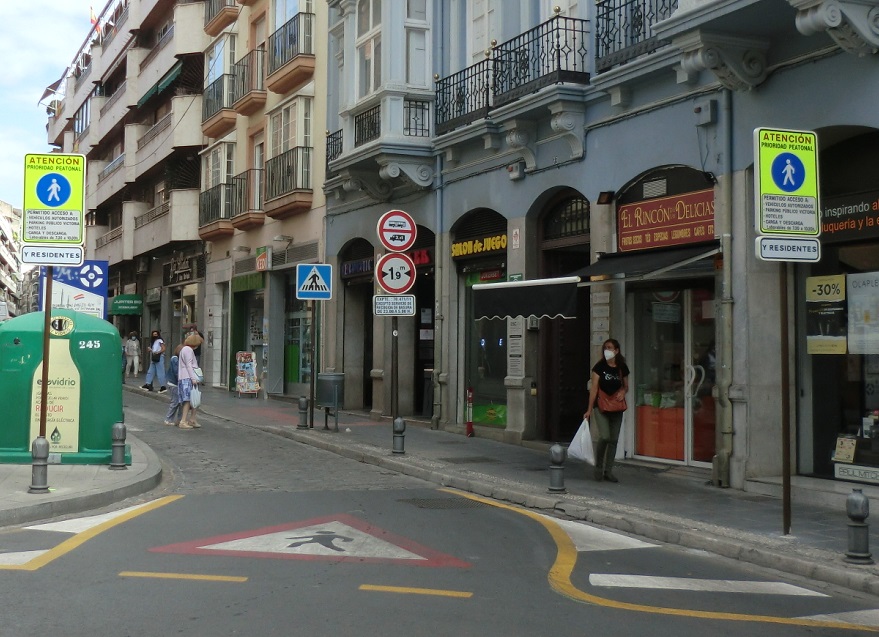 Also, sense of circulation in Duende and Verónica de la Virgen streets was changed.
Authorized vehicles
Vehicles that, with authorization, might get in the pedestrian of San Antón Street are:
Vehicles whose title holders own a garage with access only through San Antón.
To obtain authorization must be title holders of the car, being the usual driver on DGT or hold the insurance of the vehicle.
Documentation that need to be added to application:

If you are the title holder of the garage and on DGT is the usual driver it will not be necessary to submit additional documents.
If you are the renter of a garage: lease contract.
If you hold the use of the garage: supporting document.
If you are not the title holder of the vehicle but holder of car insurance: copy of car insurance.

Vehicles who acceed to take care of disabled or elderly people registred in San Antón St. that are reasonable justified (must attach medical report) and need help, authoriza the relative´s car.
Vehicles of Public Service (Police, Ambulances, Fire man, garbage vehicles , taxis -just those whose clients have origin or destination in this pedestrian zone of San Antón-, etc) properly identified for this service. In this case they don´t require specific authorization whenever are exteriorly identified.
Distribution vehicles for the shops of San Antón, whose M.M.A. is not over 3500kg, on working days between 7:30 and 10:30 hours.
Client vehicles of hotels located in the section of San Antón to be pedestrianizated (like Hotel YIT Casablanca in Frailes St). The pass of these vehicles will be granted by the hotel using the software application provided by the City Council.
Vehicles goint to Parking Victoria: automatically authorized.
Any other vehicle, appart from the other mentioned, can be authorized under justified reasons.
Solicitud
You can download the application in Impresos in Granada.org: Access to pedestrian priority street San Antón.
Remember: if you are hosted in a hotel in this zone, you have not to apply anything, you may talk the number plate of your car to reception in your hotel. They send us your number plate.
Maps